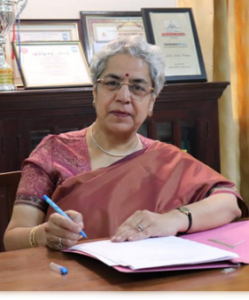 Dear Students,
Welcome to Lady Irwin College. The College has a glorious history and support of eminent national and international leaders in the past. It strives to give the best education to young women and build their capacities to meet challenges of their times. Today, college endeavours to prepare young women with a scientific temper. The teaching pedagogies are of international acclaim. Several educationists from US, UK, Australia and other countries have tried to learn various aspects of our programme. The University of Delhi has recognized our innovative approaches and methodologies of connecting to grass-root realities. The College was awarded the first prize for "Good Teaching Practices" during Antardhvani, the University cultural festival in 2014. The College has received several awards  in the recent past including NIRF national rank of 12 among colleges in 2018, Asia's most trusted brand in teachers education in 2016 and the Nina Sibal Award 2014.
The College also bagged five Innovation prizes in 2015. The education at college builds scientific and social science acumen as well as appreciation for art and culture in appropriate proportions to churn out young women with tremendous potential, talent and capability. The alumni are placed nationally and internationally at key positions, UN organizations, industry business, hospitals, schools and academics.
I hope you would like to embark on your future journey from this College platform. From here, you should be able to look ahead with confidence, skill, positivity, do-able strategies, with growth and development and clarity of knowledge. For this, you must invest all your energy and time with your mentors in College. The teachers are experienced and visionary. Have a meaningful, value-based and holistic education and be an Irwinite! An Irwinite has the power of bringing smiles on faces of people and impacting the nation through their education towards serving the community; true to the motto, "Vidya hi Sewa". Discover yourself, welcome to Lady Irwin College!