The College has over the years continued to grow to establish more facilities to support the  students while they continue to pursue academic excellence. Student center includes the  students' meeting spaces like Seth Ram Lal Hall, Amphitheatre, Ashiyana, Front Lawn,  Enabling Centre and Hostel Common Room, where students meet for Students' Association  meetings, GBM, cultural activities etc.
Students Association Advisor
Contact – Please see Staff Council Committees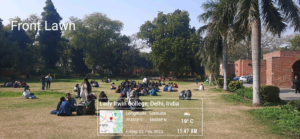 The Seth Ram Lal Hall serves as a space for encouraging creativity and fostering communication  with a seating capacity of 200-250. The hall is equipped with a well adorned wooden stage with light system and has an attached green room with toilet where most of the theatre acts are organized. Most of the indoor events like seminars, workshops, Teachers Day' celebration, etc, are conducted in the hall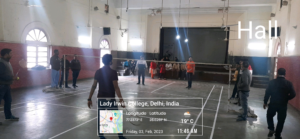 Amphitheatre (inaugurated in August 2015 as Chander Ajwaini Rose Bowl Theatre) serves as a  vibrant space for outdoor activities as part of the educational and cultural program. It has a  seating capacity of about 200 persons and also has an attached green room and toilets. It has  been an active space used for organizing cultural events & recreational activities like music,  theatre in particular street plays, talks, national day celebration, art, SPICMACAY events,  farewell, competitions, yoga and many others. The students also use it to for their practice and training sessions. Amphitheatre has its own lovely place in the heart of every students studying in Lady Irwin College.
Enabling center is a huge multipurpose semi open space having 2 big rooms, toilets that can be used by differently abled students and an open space allocated to student association. The facility  is primarily used by 14 societies of the association to store items, instruments, costumes and  other necessary material required by them throughout the year. It is bustling with students at all times, and because of its open structure, it provides a great rehearsing space for performing arts for in-house and outdoor events and competitions. It is fondly called as students' room by the students as they bond here and create beautiful memories that contribute in the building of a dynamic student body in a campus.
The college has a sprawling lush green lawn in front of the building making it an aesthetic place  that provides the feeling of sitting close to real beauty of nature. The lawn consists of different types of flora spreading to every corner. Front lawn is used for holding events like students morning assembly, Annual Day celebration, Students' Annual Cultural Fest, Alumnae award Ceremony, etc.
Hostel common room is a spacious room equipped with VCD attached Plasma TV, music  system, Wi-Fi connectivity for the residential students. It is the place where every hosteller feels the belongingness and makes several memories with their seniors as well as batch mates. This place unites every hosteller with a single thread and makes them feel like their own second home.