The sports society of Lady Irwin College not only aims to prepare first-class fitness enthusiasts but also focuses on diverse programs that inspire leadership, teamwork and resilience among its students, thereby profoundly impacting our society in meaningful ways.
Convenor – Sports Society
Contact – Please see Staff Council Committee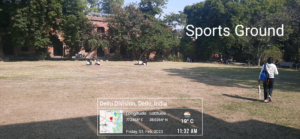 Details of infrastructure for sports
Area
Description of activity

Sports Ground

50 x 20 meters

Activities: Volley Ball, Throw Ball, Net Ball, Yoga Classes, Base Ball, Athletics, NCC Parade, Cricket, Hand Ball

Sports Room

Gym

6.10 x 4.25 meters
Twister, Tread mill, Front Pulley, Abdominal Board, Bench Press
Badminton Court
13.4 x 6.1 meters
Basketball Court
28.7 x 15.2 meters
Volleyball
18 x 9 meters
Tennis Court
23.77 x 8.23 meters
Other Indoor Sports Facilities
Such as Chess, Carom, Sports Classes.
Morning training sessions.
Training sessions under a specialized coach.
Daily refreshments for the players after practice sessions.
Playing kits for the players.
Provides all sports equipment.
The society conducts Annual Sports Day, wherein teaching as well as non-teaching staff and B.Ed. department also takes part in the competitions. Scholarships and awards are also presented to the players on the basis of their achievements.
The society also conducts the Freshers Talent Contest to nurture and identify the talent in the freshers.
College provides the entry fees for the tournaments to the players.
Participation of the college team in various intercollege events such as Delhi State Tournament, etc.
During the times of pandemic, the society conducted various informative webinars on the topic such as Menstruation, Nutrition, Zumba to spread awareness and to enlighten the audience.